Mart, me and karting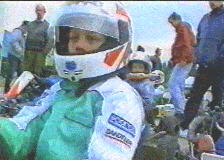 This page is opened on February 19th 1997.

This page is not description of karting in Estonia. I tried only illustrate my last years interest to this sport. This page is mainly connected with my older son Mart Abramov and is part of page about me.
Mart is born March 07th 1980, beginned driving kart in year 1993. First season was successful - 3rd place on Estonian Championship and 5th place in total rank in national class Cadet-Junior between 54 competitors. Next season, 1994, was better - 2nd place on Estonian Championship and in total rank in national class Cadet-Senior, also first wins in individual races. In year 1995 Mart had taken part only in a half of races, which didn't allow to get higher place than 7th in total rank (but gave some medals and cups on separate races). Mart had driven also ICA-Junior and ICA class karts and also here he managed to add some cups to his collection. Since 1996 Mart does not race.
I tried also to find correlation between races results and astrology: look separate page Karting and Astrology.
Below are some commented pictures from my photo and home video archives to illustrate this sport. Images are in two format: small ones for quick preview (about 400x320 pixels jpg-s with size about 30kB) and large pictures (about 800x600 pixels jpg-s with size about 60-90kB). (Actually full size aren't true words, real full size originals are about 1100x800 pixel true color images).
In Estonia kart numbers reflects total ranks in previous year in this class. Novices in this class have great numbers (as rule over 40).
small, large - season 1993, Põltsamaa circuit. Mart (No 52) is driving to his first Estonian championship medal. Just behind is No 1 Villem Pomerants, best in previous season.
small, large - And here is first medal (Mart is left). Right is Timo Jaanus (2nd place), champ Veiko Niit is with father.
father (that's me) is very happy.
small, large - Year later. Mart and Timo both moved from Cadet-Junior to Cadet-Senior, but results in Estonion championship was better. Timo is now champ, Mart (right) second.
small, large - season 1994, Põltsamaa circuit, very happy for Mart. Here he wins his first medal year ago, here he wins first separate race two month ago. All seems be ready to final start.
small, large - season 1994, Põltsamaa circuit. Competition is very close. Mart is No 63.
small, large - a couple of weeks later, Aravete circuit, Primex cup. Three minutes before start. On pole position is No 5 Daniel Krebets, Mart (No 63) second, Timo Jaanus (No 62) third. They were ranked as a best in the season in this class, but in just reversed order...
Mart drived this season also ICA class kart. Here are a coupe of pictures from Baltic Match (Estonia, Latvia, Lithuania).
small, large - last concentration before start, but guys are unusually worried. Mart (left) with good friend and opponent Villem Pomerants.
small, large - Race. Now is all OK yet, but for Mart's race was ended by collision.
small - Some collisions are dangerous. Class "Raket", Aravete circuit. After collision on start one of drivers remind on track. Drivers are going from first lap, but race is stopped already. Fortunately damaged was only kart. From home video archive.
small, large - end of season. Tomorrow is last race, prize is Stone Cup. Mart with mechanic Margus Halling in garage.
small, large - last race in season 1994, Haapsalu town. Rain and blinks from low sun blinded Mart and he rearranged a bit traffic signs in town :) Shassis is seriously damaged, but fortunately that happened on warm-up, so we had 2 hours to made all possible to race.
small, large - in spite of damaged shassis the Stone Cup is in hand!
small - season 1995, circuit on Hiiumaa. Fighters on the track, good friends between races. Between current No 2 Mart (right) and current No 1 Timo Jaanus is sitting new champ Rain Kala (but not yet champ , currently he is No 9). Stays Villem Pomerants, Mart's old friend and opponent. Actually it's very fine picture. Excluded Mart, all these guys are Ectonian champs (but Mart have silver and bronze) and hard opponents all the time. At the moment Rain Kala is nobody, but one mohth later he will get his first medal on Estonian championship, and he will be right away champion.
small, large - next day, race on Pärnu's formula circuit. Last seconds before start. Mart is No 2. Timo Jaanus (No 62) was owner of No 1, but he preferred his last season number as happy. But this year it don't helped - Rain Kala (No 9) was this year better.